This article was published in Business Times' column "Chart Point" on 23 July 2018.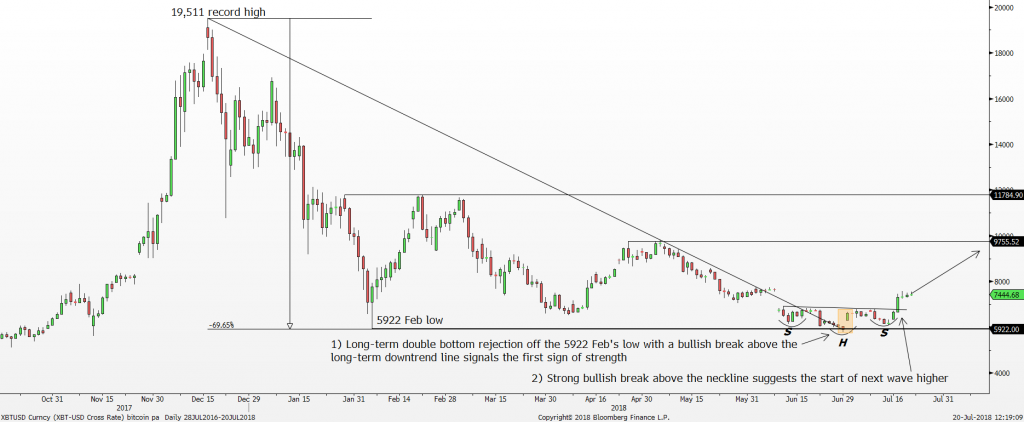 Bitcoin Daily Timeframe                                                 Source: Bloomberg, PSR
Since hitting a record high of 19,511, Bitcoin has been in a freefall. The sentiment has been extremely dreadful with no signs of sustainable rallies. Bitcoin fell 70% to the recent low of 5,791 in late June after it established a record high at 19,511 seven months ago. Nonetheless, it seems like the bulls are warming up once again to regain some market share.
From a longer-term perspective, there seemed to be a double bottom formation emerging at the 5922 low. Remember the initial selloff from the 19,511 record high took Bitcoin down to a low of 5922 in early February. It took the market just two short months for it to tumble 69%. Since hitting that low in February, price has been moving erratically with wild swings up and down. Four months later, the relentless selling pressure has once again brought price down to the critical 5922 February low. Clearly, with the benefit of hindsight, the bulls were ready to defend the 5922 February low. Despite price breaking below the 5922 in late June, the positive rejection at the end of the day reinforced the belief that the bulls are respecting the 5922 low. In other words, the 5922 February low could be the anchor floor moving forward where the long-term uptrend in Bitcoin resumes.
Zooming into the recent price action also validates the bullish narrative. The consolidation since June has formed a bullish formation, Inverted Head and Shoulders pattern. Keep in mind the formation of the Inverted Head and Shoulders pattern was firmly supported by the 5922 February low confirming the strength of that support area. With the recent news of BlackRock (world's largest asset manager) setting up a team to look into Cryptocurrencies and Blockchains, the sentiment turned positive lately. More importantly, the bulls succeeded in breaking above the 6900 neckline on 17 July, effectively triggering the Inverted Head and Shoulders pattern. As soon as price broke above the 6900 neckline, the bullish momentum accelerated and Bitcoin was up +10% on 17 July, the day of the bullish breakout. Based on the Inverted Head and Shoulder projection, the bulls should be targeting the 8000 area next.
Bear in mind the long-term downtrend line since December 2017 has also been broken to the upside in July shown by the highlighted area suggesting the long-term trend has turned bullish once again.
Therefore, from both the long-term and immediate view of the chart, Bitcoin seemed to have turned the tide and return back into the long-term uptrend. The 5922 February low could be the solid floor that launches Bitcoin into the next wave higher. The next likely target on the upside will be the 8000 resistance area based on the Inverted Head and Shoulders pattern projection. After which, price should be aiming for the 10,000 psychological round number.