We attended a site visit hosted by Aspen (Group) Holdings Limited ("Aspen") to its flagship project Aspen Vision City (GDV: RM10bn) on Mainland Penang, a few of their other development sites and a sales gallery of its ongoing and pipeline projects on Tuesday, 17 January 2018. We also met with the President & Group CEO, Dato' M. Murly, and the Chief Financial Officer, Christopher Looi, who shared with us more on the Group's developments and insights on the Malaysian property market.
Company Background
Listed on the SGX Catalist Board on 28 July 2017, Aspen (Group) Holdings Limited is a Malaysia-based property development group that develops affordable residential and mixed development properties. The Group's flagship project, 245-acre Aspen Vision City (in Bandar Cassia, Batu Kawan, Penang, Malaysia), is the result of its joint-venture partnership with Ikea Southeast Asia (Ikea) (through owner Ikano Pte Ltd).
Site Visit Highlights
1. Aspen Vision City (AVC) to create new communities and opportunities
Township complete with homes, offices, malls, schools, transport hub, industrial parks, medical facilities with robust infrastructure in place (located right at the mouth of Penang second bridge)
Creation of jobs with opening of factories, malls, and other services
2. Benefiter of enlarged focus on affordable housing
Aspen, as a provider of affordable homes, is well positioned to benefit from the increased focus on affordable housing in Malaysia's 2018 budget
High take-up of unique "value-add" packages ensures healthy bottom-line; 82.7% of units sold for a 3Q18 TOP launch and 64.61% for a 1Q21 TOP launch
Unbilled sales of RM1.02 billion to underpin revenue growth
3. Strategic partnership with Ikea
Aspen and Ikea have jointly developed AVC through a joint venture, with stakes of 80% and 20% respectively. Both entities also have a combined stake in Bandar Cassia Shopping Centre in AVC.
Ikea store in AVC will be the first in the Northern region of Peninsular Malaysia. It is slated to operate in 1Q19 and is expected to be one of AVC's main draws.
Track record and execution ability going forward has potential to pave the way for other similar partnerships with Ikea and/or other developers
Investment Actions
No stock rating or price target provided, as we do not have coverage on Aspen.
Peer Comparison – Aspen is trading at a lower P/B than industry average

Background
Aspen currently has four ongoing projects and four in the pipeline. We visited the sites of two ongoing projects – Tri Pinnacle (Penang Island), Vervéa (AVC), Villuxe (AVC), and a showroom for Vertu Resort (AVC).
Figure 1: Aspen's projects laid out on a map of Penang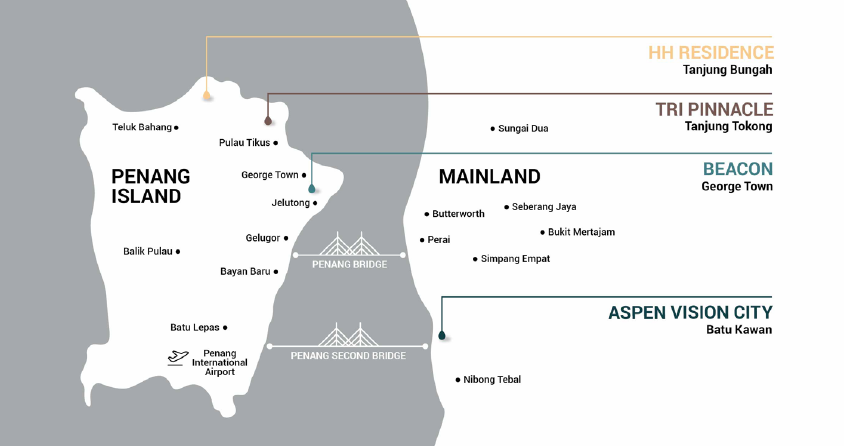 Group structure
Figure 2: Highlighted portion shows the JV structure between Aspen and Ikea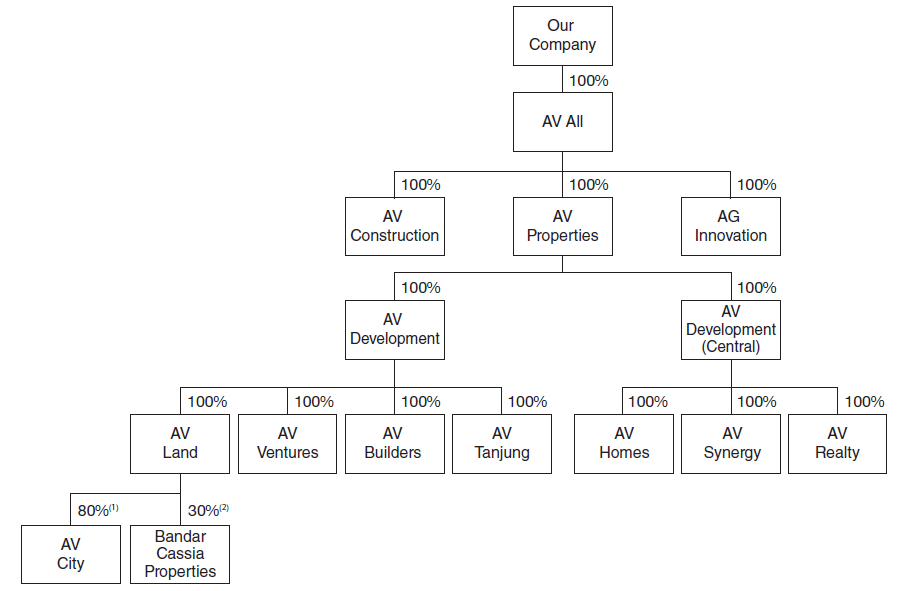 Ikea, through Ikano Pte Ltd, owns the remaining stake in AV City and Bandar Cassia Properties
Projects at a glance
Ongoing projects
Figure 4: Total GDV of ongoing projects stand at RM2.17bn, with RM1.1 bn in unbilled sales that is expected to be recognised over next 3 years.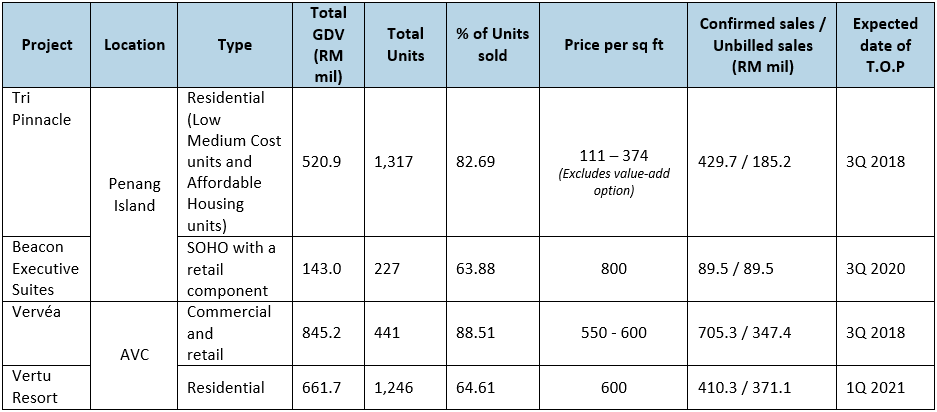 Pipeline projects
Figure 5: Total GDV of pipeline projects stand at RM2.09 bn. HH Park and Viluxe slated to launch in the next two weeks.

Others
Figure 6: In addition to its development projects, Aspen also has in its portfolio the remaining site area of AVC as land bank, the Bandar Cassia Shopping Centre, as well as a few land developments.

Value-add packages to boost affordable home return
While Aspen provides homes at affordable price points, it also offers unit customisation (provision of household fixtures, white goods and appliances) and upgrade options (plaster ceilings, parking) at a separate fee
High take-up rate (>80%) so far. These value-add options help bolster revenue despite initial baseline from the affordable housing price point.
Buyers are enticed by this offering because of cost savings and hassle-free procedure, as opposed to procuring their own interior goods.
Tie-ups with various complementary businesses: Most recently, Aspen had entered a strategic partnership with LG Electronics to provide technology solutions for all of its real estate developments in Malaysia and Southeast Asia.
Affordable housing scheme plays well to Aspen's business model
Figure 7: Johor currently has the highest proportion of unsold units in Malaysia (17%) followed by Selangor (14%), Penang (13%) and Kuala Lumpur (12%)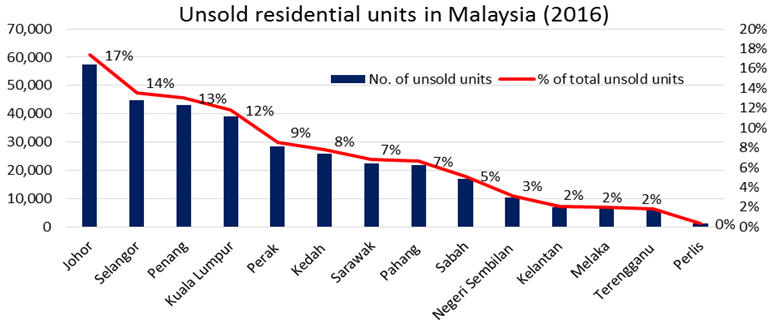 Affordable housing quota: Developers to set aside 30% of development for low-cost housing
Focus on affordable housing in Budget 2018 to address overhang in unsold units
Affordable housing (RM300,000 per unit) is now being offered by private property developers as well as government entities such as PR1MA (a housing development programme)
"Moratorium" on luxury developments
On 19 Nov 2017, Second Finance Minister Johari Abdul Ghani announced a temporary freeze on approvals for shopping malls, commercial complexes and condominiums valued above RM1mn
Pre-approved luxury projects unaffected but selective approval for new ones
MyDeposit scheme for first-time homebuyers
Government grant of 10% of property cost or up to a maximum of RM30,000
Applications for scheme opened in mid-Dec 2017