1Q17 revenue and EBITDA were in-line with estimates. The appreciation of Taiwan dollar (TWD) by ~7% yoy supported revenue growth. Cable TV subscribers were stable.
Broadband APRU continue to soften due to competition from unlimited 4G mobile data plans
Dividend guidance of 6.5 cents annually (paid 1.625 cents per quarter) has been maintained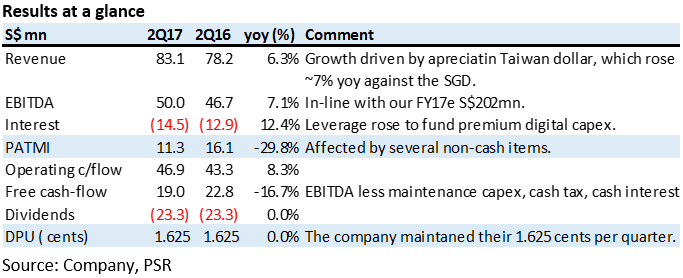 The positives
+ Premium cable digital beginning to gain some traction with customers as APTV introduced promotional content. Subscribers rose almost 11% yoy in 2Q17.
+ Cable TV subscribers were stable and DPU guidance maintained.
+ APTV is evaluating other business opportunities with new trustee owners but too early to disclose any details.
The negatives
– Broadband ARPU still on declining trend. The roll-out of unlimited 4G mobile data plans has affected ARPU. APTV had to react to the competition with new promotions.
– Free cash-flow declined yoy and is still lower than dividends payable. As a result, APTV is still reliant on increased leverage to sustain dividends. Leverage is rising faster this year in order to fund $50m premium digital capital expenditure.
Outlook
The outlook remains stable. We lowered our net profit by 4% to account for higher foreign exchange. There is no change to our target price or cash-flow assumptions.
Maintain BUY rating with target price unchanged at S$0.64
We maintain our BUY recommendation with an unchanged target price. The adjustments to our earnings are non-cash and do not materially affect our valuations. We find APTV dividends attractive and sustainable. Operating cash-flows are supported by a recurrent monthly cable TV subscription fees, and APTV operates in a monopolistic environment.