We recently attended a group discussion with Management, hosted by Managing Director, Ms. Yvonne Lee, who fielded the Question & Answer session.
Company description
Asia Enterprises Holdings Limited (Asia Enterprises) distributes steel products such as plates, angles, beams, bars and pipes to industrial end-users in Singapore and the Asia-Pacific region.
Asia Enterprises was listed on the Main Board of the Singapore Exchange on 1 September 2005 through 5,000,000 Offer Shares at S$0.27 each by way of public offer, and 63,000,000 Placement Shares also at S$0.27 each.
Key takeaways
Turnover expected to remain soft due to lower volume, in spite of higher ASP
Management shared that the recovery of steel prices has been due to higher cost of the two main raw materials – iron ore and coking coal. Data from Bloomberg (overleaf) show that the cost of iron ore had increased by c.35% during 2016; and the cost of coking coal had increased by c.186% in the same period. We use hot rolled steel from China as a proxy for the mix of steel products and observe that it has recovered c.85% from the low in December 2015. While the higher price of steel has lifted average selling price (ASP) for 9M FY16, Management shared that it is still lower than FY16 average. In terms of product mix sold, hot roll coil is the highest by volume, while plates constitute about half of turnover. (Bear in mind that weighted ASP depends on product mix sold and not just hot rolled steel alone.) Lastly, Management believes demand from Construction to remain stable, while demand from Marine and Offshore has some way to go before a recovery. Overall, demand is not expected to pick up massively in the near term. Management shared that the three biggest customers by revenue contribution are typically not the same every year.
Further downside from inventory write-down unlikely in 4Q FY16
Inventory was written-down by S$9.81 million in 4Q FY15, contributing to the full year net loss of S$12.1 million in FY15. Considering the write-down last year together with rising steel price this year, a write-down again this year in 4Q FY16 is unlikely. As inventory is recorded on an average cost basis, a nuance in relation to inventory is that it is not feasible to forecast with certainty the gross profit margin by tracking the price of steel. The reason is twofold: inventory cost is dependent on when inventory is replenished and quantity of inventory replenished. Moreover, there is a lead time of two to three months before inventory is received.
Expect benefits of scale from consolidation of operations to new warehouse
The warehouse at 36 Penjuru Lane is being redeveloped and expected to be completed by 1Q FY17. When completed, inventory at the other two warehouses (3 Pioneer Sector Walk and 25 Pioneer Sector 2) will be consolidated to this warehouse. Management expects some cost savings with the consolidation of operations. While the additional space increases ability to stock more inventory, Management cautioned against linearly extrapolating potential revenue growth with the increase in storage capacity. The reason is that not all goods sold passes through their warehouse; there are instances where goods are turned around to customers without even entering the warehouse. From a cash flow perspective, we understand that the 9M FY16 Capital Expenditure (CapEx) of S$11.6 million is substantially in relation to the S$18.7 million Capital Commitments disclosed on Page 67 of the FY15 Annual Report. Management shared that the lease for the warehouse at 25 Pioneer Sector 2 will be expiring in four years, and will have to enter into negotiations with JTC to renew the lease or for a replacement site. CapEx is to be expected for redevelopment of a new warehouse, regardless of either outcome.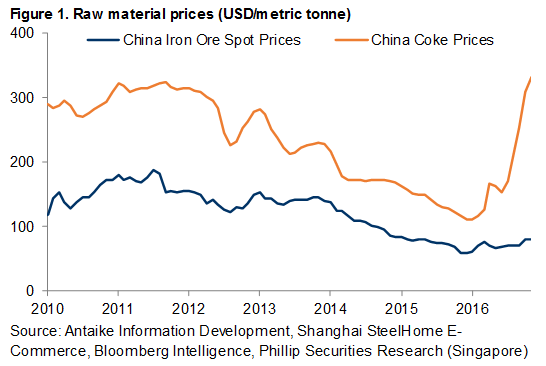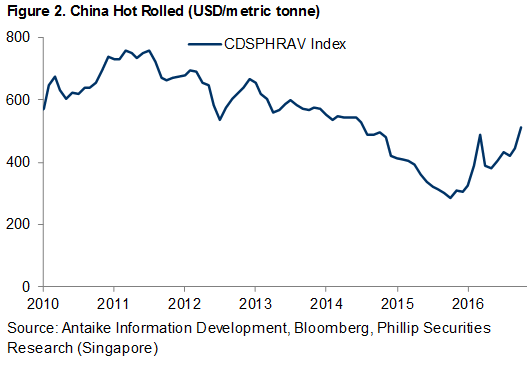 What do we think?
We show in the last section of this report that current valuation appears undemanding, priced below the estimated liquating values of current-asset value per share of 23.0 cents and realisable current-asset value per share of 20.6 cents. Thus making this a net-net stock. We also show that the current price appears to be irrational, even after assuming that inventory is fully written-off (realisable current-asset value of 18.7 cents per share). Barring any oversupply shock or irrational pricing for steel, we think the worst could be over for steel prices. Catalyst that will move the stock price higher is a recovery in demand from the Marine and Offshore customers and favourable movement in steel prices.
Investment action
No stock rating or price target provided, as we do not have coverage on Asia Enterprises.
Company Background
As disclosed in the FY15 Annual Report, "Asia Enterprises is a major distributor of a comprehensive range of steel products to industrial end-users in Singapore and the Asia-Pacific region.
With 43 years of operating history, Asia Enterprises boasts a wide range of products that is complemented by its value-added services to offer 'one-stop' solution and just-in-time delivery to its customers. Today, the Group has a ready inventory consisting of more than 1,200 steel products that it supplies to over 700 active customers involved primarily in marine and offshore, oil and gas, construction, as well as precision metal stamping, manufacturing and engineering/fabrication industries. The Group has forged a strong reputation as a reliable distributor of steel products to the marine and offshore industries.
Asia Enterprises presently operates three facilities in Singapore – two warehouses and a steel processing plant-cum-warehouse with a combined land area of 45,934 square metres. To complement its steel distribution business, the Group also provides precision steel processing services through a joint-venture with Marubeni-Itochu Steel Inc.
Business model in a nutshell: steel stockist
As a steel stockist, Asia Enterprises bridges the gap between the steel mills and the end-users. Steel mills only sell their products in large quantities, often with a lead time of around two to three months. End-users on the other hand typically do not meet the minimum order quantity of the mills, need the stock immediately and cannot wait for two to three months. This is where Asia Enterprises acts as a middleman – buying in large quantities from the mills and holding an inventory, ready for sale to the end-users.
Precision steel processing services through a joint-venture
Asia Enterprises provides steel processing services through its 60%-owned subsidiary Asia-Beni Steel Industries (Pte) Ltd. The subsidiary is a joint-venture with one of Asia Enterprises' major suppliers, Marubeni-Itochu Steel Inc. Marubeni-Itochu Steel Inc. is in turn equally-owned by Marubeni Corporation (market capitalisation: JPY 1,175 billion / S$14.7 billion) and ITOCHU Corporation (market capitalisation: JPY 2,744 billion / S$34.2 billion), both of which are listed on the Tokyo Stock Exchange.
The initial public offering (IPO) Prospectus describes the steel processing services as supplying "processed steel materials such as anti-finger print and phosphated electro-galvanised, hot-dipped galvanised, cold-rolled, hot-rolled and stainless steel to our customers that engage mainly in precision metal stamping, manufacturing and engineering/fabrication activities."
To read the full report, please sign up for premium content.