Gross revenue and DPU in line with our forecast
Positive renewal rate in Singapore kept the Total Portfolio renewal rate positive, out-weighing the negative renewal rate in Australia
Slight dip in occupancy for both Singapore and Australia portfolios
Proposed acquisition of speculative build property in Australia

The Positives
Positive renewal rate of 3.1% for Total Portfolio: This was from Singapore (+5.8% reversion), where all property segments reported positive renewals except Logistics & Distribution Centres (-2.3%). Renewal rate in Australia was -1.0%, also attributable to the Logistics & Distribution Centres.
Pro-active portfolio management: Proposed divestment of 84 Genting Lane in December 2017 for $16.68mn, which is 68% higher than the original purchase price of $10.0mn and 5.6% higher than the market valuation of $15.8mn. No material impact to rental income as it contributed only $2.0mn of GRI in FY16/17.
Acquisition-driven growth: Acquired third office space in Australia in December 2017, at 108 Wickham Street in Queensland. (Not to be confused with 100 Wickham Street, which was acquired in September 2017.) We estimate the property to contribute ~S$7mn NPI in its first year, followed by its 3% to 4% per annum rental escalation.
Gearing remains low at 35.2%: Available debt headroom of ~S$800mn (assuming 40% target leverage), potentially growing the portfolio by ~8%.
The Negatives
QoQ lower total portfolio occupancy from 92.0% to 91.1%: This was due to lower occupancy for both Singapore (from 90.1% to 88.8%) and Australia (from 98.7% to 98.5%) portfolios.
Outlook
The outlook is stable. Contribution from acquisitions buffered the impact from the lower occupancy during 3Q FY17/18. We expect the same in the 4Q FY17/18 as only 5.1% of NLA is up for renewal. The tapering new supply of industrial space in 2018, should release some of the ongoing over-supply pressure.
Maintain Accumulate; higher target price of $2.89 (previously $2.86)
Our forecast remains largely unchanged, after factoring in the acquisition of 108 Wickham Street, Australia in December 2017 and divestment of 84 Genting Lane (contributed 0.24% of FY16/17 GRI) in January 2018.
We expect a stable 5.8% yield and our target price gives an implied 1.36 times FY18e forward P/NAV multiple.
Relative valuation
A-REIT is trading above the peer average P/NAV multiple and at a lower 12M-trailing yield than the peer average.
Investment highlights
Figure 1: Acquired 108 Wickham Street Business Park property in Brisbane, Australia on Dec 22, 2017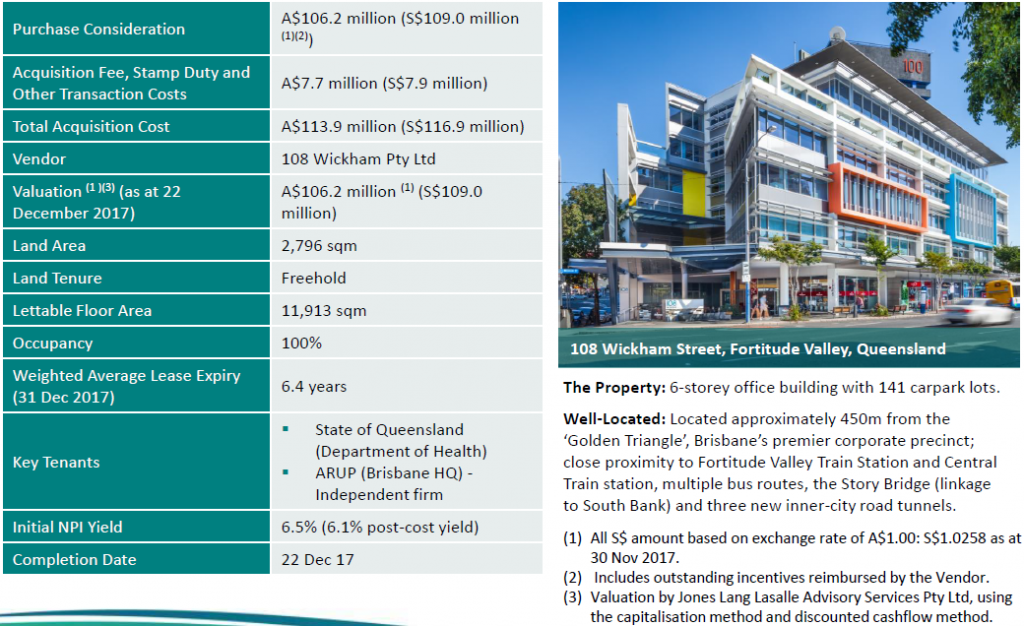 Figure 2: Divested 84 Genting Lane, Singapore on Jan 19, 2018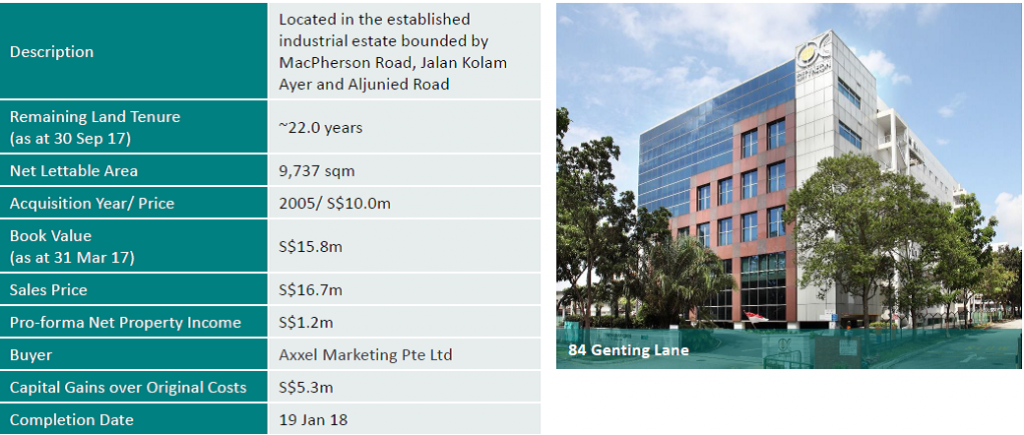 Source: Company 3Q FY18 Financial Results Presentation, 25 January 2018
Acquisition of speculative build property in Australia
At S$30.8mn, the property value is ~0.3% of current AUM. Hence we do not think this will be a material contribution to the portfolio. The benefit is it will diversify the portfolio's sources of income, and further mitigate the reliance on any one property.
Figure 3: Proposed acquisition, expected completion 3Q FY18/19 (i.e. 4Q CY2018)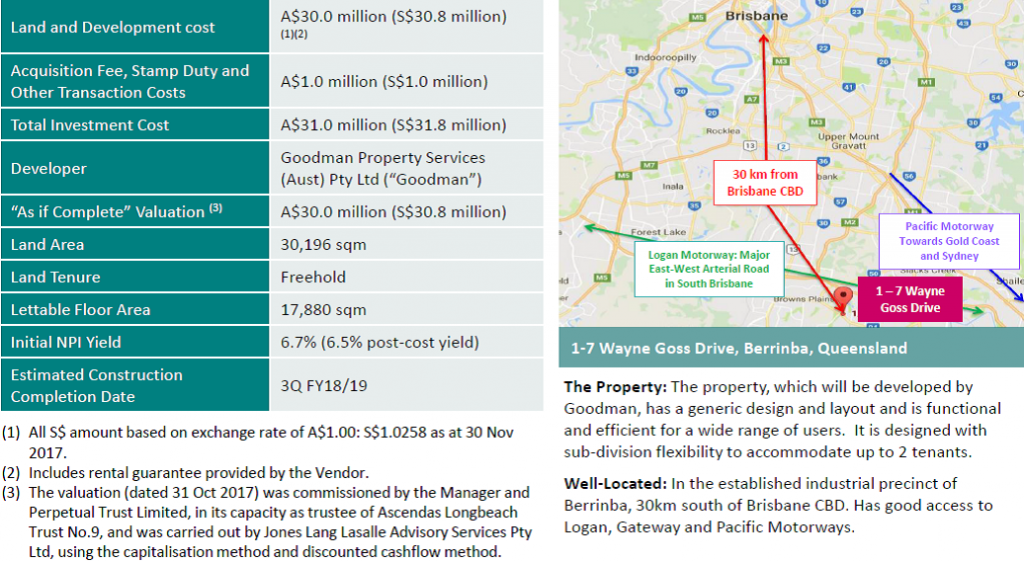 Source: Company 3Q FY18 Financial Results Presentation, 25 January 2018