Market: STI was up 0.5% in June. We remain Neutral. Our STI target is unchanged at 3270 (15x PE FY17e). June was an eventful month in terms of macro events. Both US Treasury yields and US dollar traded at year lows, while oil prices suffered a breakdown. The market is navigating under four macro considerations: 1) weak inflation data in the US has dragged down US Treasury yields to year lows, despite the Fed raising rates and threatening to unwind its balance sheet. The Fed views the low inflation rate as transient and the tight labour market as a more reliable predictor of higher inflation in the future; 2) Macron's overwhelming majority in the French Parliament perhaps wiped out political risks in Europe and even brought it a step closer to the fiscal union dream; 3) softer economic momentum in the US and nervousness over politics are pressuring the US dollar lower, and 4) a breakdown in oil prices is raising the spectre of another spike in credit risks and a further collapse of capital spending. It is under such a scenario which we build our strategy. Lower inflation and interest rates made us overweight yield stocks and underweight banks. The decline in US dollar will be beneficial for selected emerging markets, namely China and Indonesia. Softer oil prices may trigger further provisioning by the banks, albeit modestly as most of the lumpy issues were written off last year.
Recommendation: Our key BUYs remain stocks with attractive sustainable yield such as Asian PayTV and Mapletree Industrial Trust. We have removed Croesus Retail following its takeover-offer. Keppel DC REIT has also been taken out, as its share price has far exceeded our target. We included Mapletree Industrial for the stability of its yields which is sourced from almost 90 properties. We initiated a Trading BUY on Wheelock Properties. The company boasts a net cash pile of S$800+m, pays 3% yield and is only valued at 0.7x book. Other key property picks are CapitaLand, Chip Eng Seng, and Sinarmas Land. Worth highlighting is our bearish technical read on the US dollar. We believe there is a 30% downside to the currency. Fundamentally, we think the US dollar faces the twin headwinds of slower growth and political uncertainties.
Sector/Corporate: The main corporate news was the takeover of Croesus Retail. The offer price was aggressive at 27% above NAV. REITs were the best performing sector this month, with some trading at all-time highs. This can ignite a self-reinforcing loop where the high share prices allow REITs to make yield accretive acquisitions, which in turn push up share prices further. We remain upbeat on property sector. Demand is rising (+50% YoY), against a weak supply stock, which is at 10-year lows. Separately, we are less optimistic on healthcare. The latest patient admission data in Singapore is sluggish. Construction is another sector in the doldrums, with demand down 51% this year.
PHILLIP SINGAPORE SECTOR UNIVERSE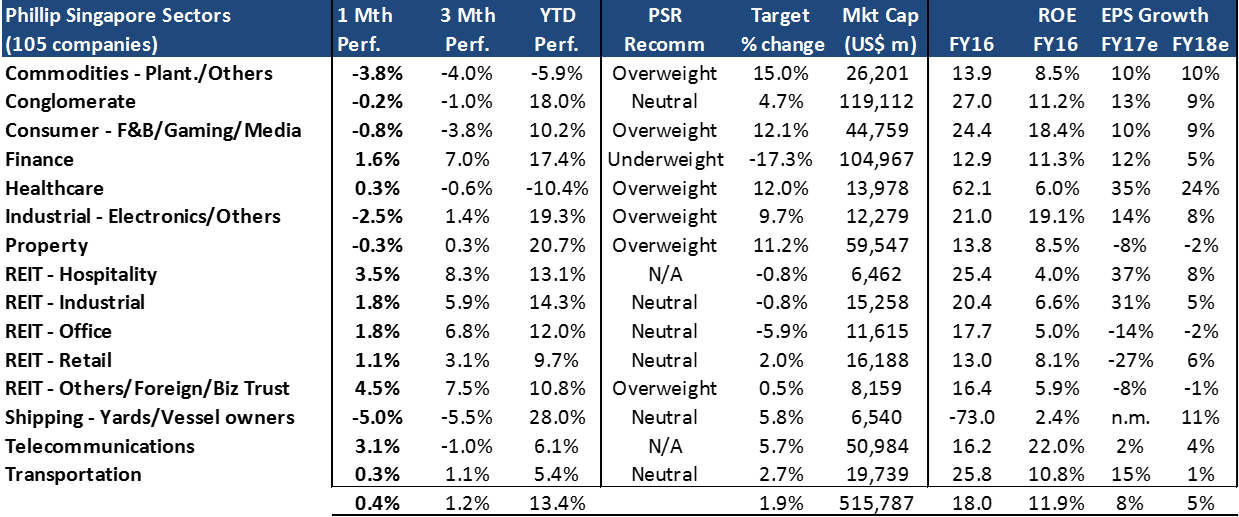 Best performing sectors in June 17 were: REITs Others, REITs Hospitality and Telecommunications. The gains in REIT Others were from Croesus Retail (+16%) and Hutchinson Port (+6%). REIT Hospitality gains were broad-based but the major movers were Ascendas Hospitality (+5.8%), Far East Hospitality (5.5%) and OUE Hospitality (+4.9%). The rise in telecommunication sector was predominantly due to the 3.5% increase in SingTel. The Top 3 gainers in our coverage this month were iFast (+22.8%), Croesus (+16.3%) and HMI (+11%).
Worst performing sectors in June 17 were: Shipping, Commodities and Industrial.  In Shipping, Ezion (-9.6%) and PACC Offshore (-6.5%) suffered the largest declines. For Commodities, Golden Energy (-5.9%) and Wilmar (-5.4%) were the largest losers. Industrial registered large declines from AEM (-20.4%) and Venture (-6.8%). The Top 3 losers in our coverage this month were Ezion, Singapore O&G (-5.1%) and Cogent (-4.5%).
SUMMARY OF SECTOR AND COMPANY VIEWS