The 60:40 Joint Venture between Hock Lian Seng Infrastructure Pte Ltd, subsidiary of Hock Lian Seng Holdings (HLSH), and Sembcorp Design and Construction Pte Ltd, bagged a contract worth S$1.107 billion from Changi Airport Group
The project will involve development works to effect three-runway operations at Changi Airport where the runway system is expected to be operational in early-2020
We expect the new project to add S$0.011 in Group's EPS to FY20, and have adjusted our forecast to include contributions from the contract
Synergies in current taxiway project could benefit gross margin in new project but unlikely to exceed current Civil Engineering gross margin of 5.1%
HLSH is currently working on a project involving the construction of taxiways in Changi Airport. Considering the similarities in the scope of works in the new project, we expect synergies such as the availability of machineries and equipment from the existing project to benefit the gross margin in the new project. However, gross margin in the new project is unlikely to exceed current civil Engineering segment's gross margin of 5.1%, given the intensity of competition among other contractors during the project tender.
FY16's EPS is expected to decline 47% YoY; DPS is unlikely to keep up in our view and dividend yield will be the lowest since IPO
We estimate that the new Changi Airport project will add S$1.1 cents per year in terms of earnings per share (EPS) for the next four years until the project is completed in 2020. Assuming that the Group is able to recognise an EPS of S$1 cent in FY16 from the new project, we estimate FY16's full year EPS to be S$3.8 cents, bearing in mind that 2H16's EPS will fall short of 1H16 since revenue recognition from The Skywoods is as good as complete. 78% of 1H16's profit before taxes were contributed from The Skywoods development project. In addition, our estimated FY16's EPS represents a 43% decline from FY15's EPS of S$7.2 cents. Consequently, dividend per share (DPS) is expected to decline 52% to S$1.2 cents from FY15's DPS of S$2.5 cents. We do not expect the Group to upkeep dividend payments as per previous year since a significant amount of cash is needed as working capital for the new project. Based on the closing price of S$0.375 on 16 August 2016, this represents a dividend yield of 3.2%, the lowest since IPO.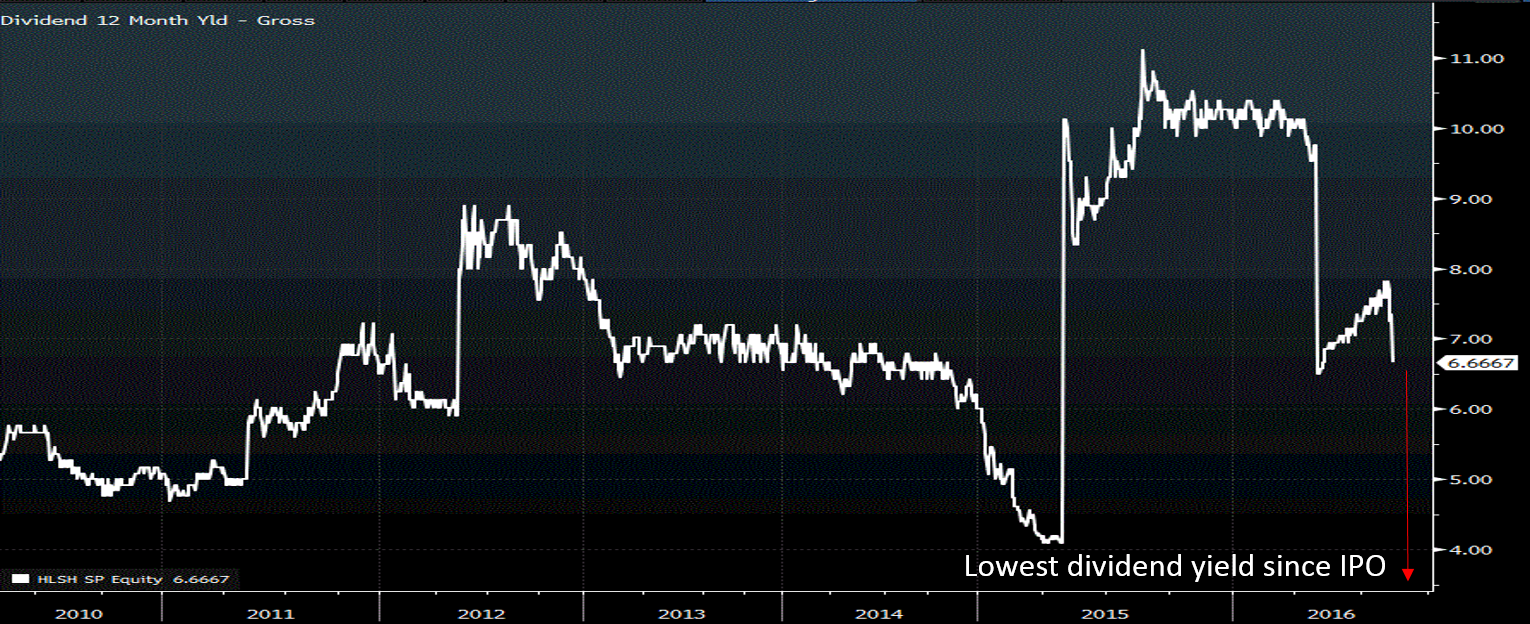 Investment Action
The new Changi Airport project win is a piece of good news for the Group, but is unable to offset headwinds in the Civil Engineering sector and continue to weigh on margins, which is eating into the Group's EPS.  We have adjusted our forecast to take into account the new Changi Airport project. We maintain a "reduce" rating but with an upgraded our TP to S$0.34 based on full-year SOTP valuation.