We were in Hangzhou, Zhejiang province (China) to visit all six of EC World REIT's current portfolio assets as well as its two right of first refusal (ROFR) assets on 13 March 2018. In addition to port logistics and specialised logistics, the REIT's assets are in the e-commerce logistics sector, which is a pivotal sector in Hangzhou and where Alibaba's global HQ is located at.
Company Background
EC World REIT (ECW) listed on the SGX Mainboard on 28 July 2016 with six logistics assets in Hangzhou, relating to e-commerce, specialised logistics, and port logistics. Current portfolio valuation stands at S$1.3 bn, with a ROFR pipeline of two e-commerce properties from its sponsor, Forchn Holdings Group. The REIT announced in February 2018 its maiden acquisition since IPO, of an e-commerce asset in Wuhan, Hubei Province (China).
Site Visit Highlights
1. Direct exposure to burgeoning e-commerce sector
E-commerce logistics assets provide entire suite of physical facilities, through master tenant and Sponsor-owned proprietary service – RuYiCang, for clients such as JD.com and P&G
Lack of like-for-like comparables due to unique offering (both B2B & B2C under one house) and sheer scale of assets
Maiden acquisition of Wuhan MeiLuoTe property is expected to increase NLA of e-commerce logistics assets by up to 15%
2. Strong backing from sponsor
Sponsor is Forchn Holdings Group, which owns RuYiCang and co-founded Cainiao Network Technology Co. Ltd.
Trove of opportunities with Sponsor's focus in logistics sector – recently announcing a collaboration with supply chain management company YCH Group
ROFR pipeline of two e-commerce related properties of over 300,000sqm GFA
3. Hangzhou key pillar of e-commerce logistics blueprint in China
Known as China's "capital of e-commerce", Hangzhou clocked in a double-digit e-commerce growth of 40% in 2017 alone
One of the core cities within the Yangtze River Delta Economic Zone, with GDP growth of 10.98% in 2017
Increased growth in e-commerce market will call for an increase in demand for warehouse facilities
Investment Actions
No stock rating or price target provided, as we do not have coverage on ECW.
Peer Comparison – ECW has one of the highest dividend yields and lowest gearing levels among other listed S-REITs with assets exclusively located in China

Portfolio assets
Figure 1: ECW's current portfolio stands at S$1.3 bn with a total NLA of 698,478 sqm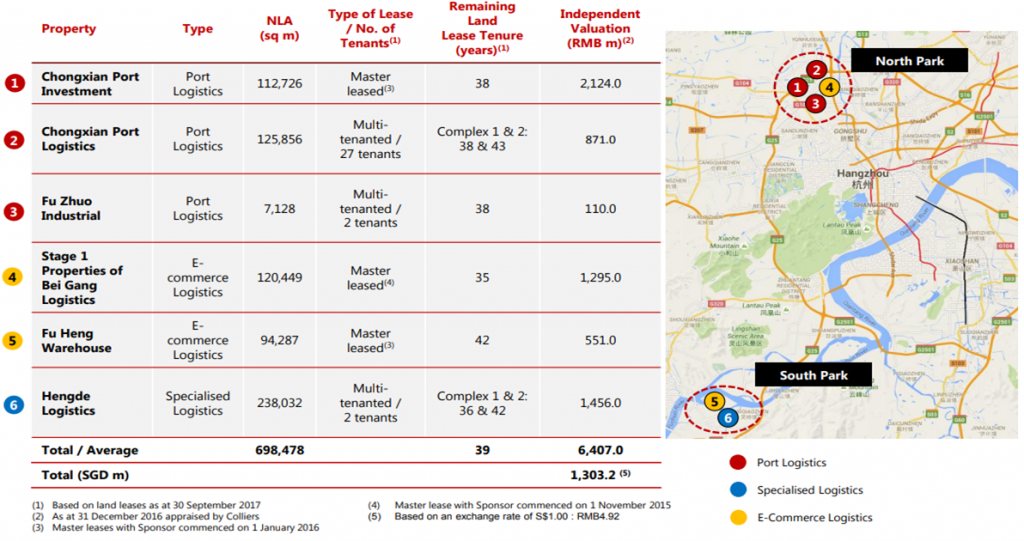 Figure 2: Breakdown of ECW's portfolio by Gross Rental Income (GRI), Net Leasable Area (NLA) and by valuation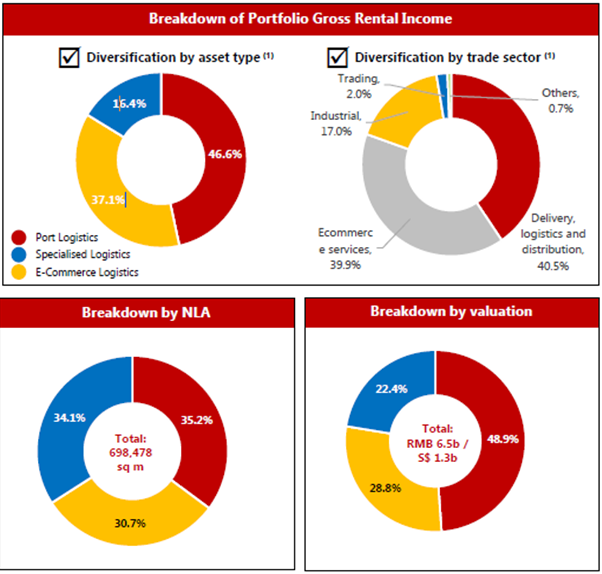 Currently, majority of ECW's GRI is derived from its Port Logistics assets (46.6%), followed by its E-Commerce Logistics assets (37.1%) and Specialised Logistics assets (16.4%)
Maiden acquisition since IPO: Wuhan MeiLuoTe
Wuhan MeiLuoTe is an e-commerce logistics asset with a current occupancy of 82.2%
Third-party acquisition with purchase consideration at a 15.2% discount to valuation
Key tenants include JD.com and DangDang.com
Figure 3: Details of transaction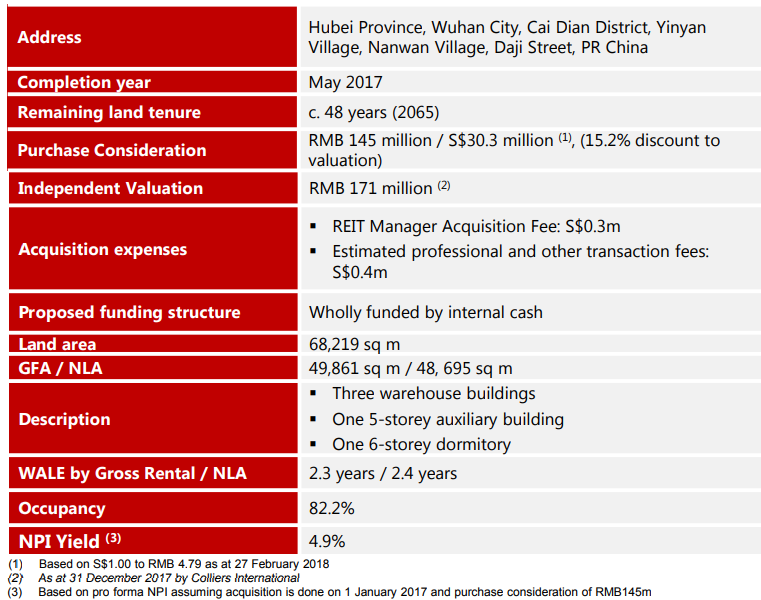 Direct exposure to burgeoning e-commerce sector
E-commerce logistics assets provide entire suite of physical facilities, through master tenant and Sponsor-owned proprietary service – RuYiCang, for clients such as JD.com and P&G
RuYiCang is one of the top three service providers for Alibaba's "new retail" concept, providing 30-40% of the warehouse space and generating 60% of the business, according to the company
Lack of like-for-like comparables due to unique offering (both B2B & B2C under one house) and sheer scale of assets
Maiden acquisition of Wuhan MeiLuoTe property is expected to increase NLA of e-commerce logistics assets by up to 15%
Figure 6: Post acquisition, e-commerce and specialised logistics assets will account for 67.2% of portfolio NLA

Strong backing from sponsor
Sponsor is Forchn Holdings Group, which owns RuYiCang (PRC e-commerce logistics and supply chain management service provider) and co-founded Cainiao Network Technology Co. Ltd. (operator of China Smart Logistics Network)
Trove of opportunities with Sponsor's focus in logistics sector
Forchn and YCH had announced in March 2018 a collaboration with RuYiCang to jointly offer e-commerce and omni-channel logistics services in the Asean and China region.
ROFR pipeline of two e-commerce related properties of over 300,000 sqm GFA