FY16 S$136.7mn revenue in line with our forecast of S$135.1mn
FY16 S$32.1mn NPAT in line with our forecast of S$31.6mn
No final dividend declared (FY15: 1.88 cents, 35% payout)
Long-term fundamentals riding on Jurong Island projects
4Q16 was a bad quarter for the stock, as it declined 35% from its closing high of $0.89 in September to its low of $0.58 at the end of December. However, it made a V-shaped recovery right on the first trading day of 2017, gaining 36% year-to-date. The more practical measure of return is that the stock is now 13.7% higher than $0.695, which was its price at the time of our last "Buy" call in November 2016.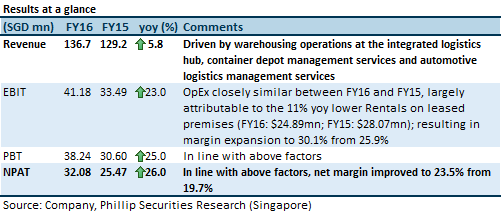 Negative surprise from absence of final dividend, cash to be deployed for CapEx on Jurong Island Chemical Logistics Facility project
The Board had decided not to propose a final divided, in view of the upcoming yet-to-be-finalised capital expenditure (CapEx) required for the project. The absence of a final dividend came as a surprise to us, in view of the majority stake held by the founding family and expectation that the founding family would want some returns in the form of dividends. Nonetheless, we view the explanation for not proposing a final dividend as fair, and demonstrates the founding family's commitment to the long-term value creation for all shareholders. We maintain our assumptions from previous reports for the project: construction to commence in 2H FY17, with Phase One receiving its Temporary Occupation Permit (TOP) in 1H FY19.
Award of two container depot sites, expect higher rentals and some margin compression
Cogent had announced the award of two new container depot sites – a 5.9 hectare plot at Tuas South and a 2.5 hectare plot on Jurong Island that will be used to construct the first full-fledged Container Depot on Jurong Island (JICD). In view of the two new sites, we believe that Cogent would be fully returning the existing Jalan Terusan site back to JTC by the middle of this year. We have been saying in previous reports to expect lower rental expense once the Jalan Terusan container depot site is returned to JTC. Clearly, that has changed, with the announcement of the two new container depot sites. We are estimating an additional S$3.0 million to $3.5 million rent expense per annum for both plots of land.
We understand that the Sky Depot at the Cogent One Stop Logistics Hub is expected to be fully operational by the end of 2Q FY17. As a reminder, the overhead crane system is still undergoing some rectification work as at December 2016.
Maintain "Buy" rating with new DCF valuation of S$1.08 (previous $1.11)
Our price target gives an implied 17.0x FY17F P/E multiple, compared to the benchmark Straits Times Index (STI) forward P/E multiple of 14.3x.

Company Valuation
We have changed our cash flow model from a dividend discount model (DDM) to discounted free cash flow to firm (FCFF) model.
Uncertainty in dividends going forward makes DDM valuation unsuitable
A final dividend was not proposed for FY16. The reason given was due to anticipation of CapEx requirements for the Jurong Island Chemical Logistics Facility project. We have become uncertain of dividends to be declared in the next two years, while the project is being constructed. Nonetheless, we continue to assume a 35% payout ratio.
Change in valuation model to FCFF
We are using the FCFF model, primarily because of the uncertainty in the exact contribution of new debt used to fund the Chemical Logistics Facility project on Jurong Island.