Investment Action
We are bullish on BABA on the growth of adoption of its YunOS and its integration with other BABA services like Cloud or Alipay. The growth of China's IoT market is expected to be exponentially large, and BABA through their YunOS has positioned themselves very well to take advantage of that growth. Strong growth coupled with a strong balance sheet makes us believe BABA to be a compelling investment.
At the end of 2016, Alibaba's YunOS overtook Apple's iOS to become the second largest OS by market share in China. With close to 100 mn units shipped, BABA's YunOS will have taken a 14% market share of smartphone shipments in Mainland China. YunOS devices, thanks to lower prices, have been surging in popularity in Tier-4 or smaller cities. Adoption rate rose to 54% in such cities, compared to the 9% adoption rate in Tier-1 cities like Beijing and Shanghai.
BABA's YunOS was built to be a cloud-based Operating System, able to run on a myriad of devices, not just smartphones. As BABA targets the growing Internet of Things (IoT) market in China, the growing usage of its YunOS is not to be underestimated. China's IoT market is expected to have a CAGR of 19% and exceed revenue of USD 248 bn by 2020, and the smartphone is the expected way for many of the IoT devices to be operated through.
BABA partnered with China's largest automaker, SAIC Motor, to launch their first internet connected smart car in July 2016, with the car powered by the YunOS. Through the YunOS, the driver is able to use voice commands to perform actions from as basic as opening and closing windows, control navigation systems to as complex as making mobile payments and restaurant bookings through the car. The car can even do payments for fuel or other things ordered by the driver through BABA's Alipay system. YunOS powered refrigerators, which work through BABA's Cloud system are able to place orders for food and groceries online via BABA's Tmall. Besides the China market, BABA also partnered with Japan's Sharp to install YunOS on their smart televisions, Lenovo for their set-top boxes, and are developing YunOS powered tablets with HP Inc and Intel.
Key Points:
Technicals: BABA has been moving in an uptrend since February 2016 where price continued to form a series of higher highs and higher lows. However, a correction of 21% took place after buyers failed to clear above the 110.00 round number resistance area in September 2016. The longer term uptrend remains intact though as the 86.42 resistance turned support area halted the recent correction firmly. Moreover, the strong bullish break above the downtrend line and 20 week moving average on the week ended 6 January 2017 suggests price is ready to head into the next wave higher. Expect the price to turn back into the long term uptrend next for price to test the 101.20 resistance area followed by 109.00. Wait for the bullish follow through above the 6 January 2017 week high of 94.81 to be triggered before getting into the trade as we want the bullish momentum to provide us the tail wind.
BABA weekly chart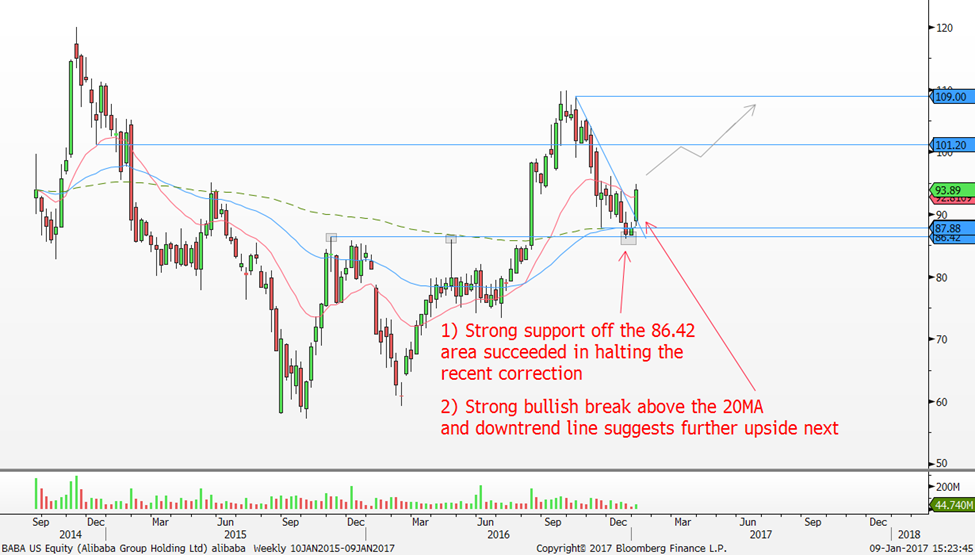 Resistance 1: 101.20, Resistance 2: 109.00
Support 1: 87.55, Support 2: 86.42
Valuation: BABA currently trades at a PER of 50.28, which is cheap compared to Amazon's 182.37 PER but higher than Google's 30.20 PER. BABA had its IPO in 2014, and is trading above its average PER of 27.22. However we believe that given the various services BABA has expanded into in the past couple of years, the current PER is more reflective of the growth opportunities available to BABA as compared to when it was more of a pure ecommerce play. BABA grew their revenue by 33% and profit (Non adjusted) by about 193% for the year ending 31st March 2016, with an operating margin of about 27.88% and a net profit margin of about 72.19%. Overall, we believe that BABA is currently Slightly Under Valued.
Risk: Since reaching its 52 week high in October 2016, BABA has fallen off on fear of Trump's aggressive anti-China policies. However, we believe that this drop off is somewhat unfounded, even if the USA counted for all of BABA's International Commerce, 8% of BABA's revenue, the impact of decreased revenue will be minimal. As such, the major risk for BABA comes from China itself. If China slows down, or faces recession, the Chinese ecommerce market, which accounts for 83% of BABA's revenue, will likely take a hit.